Jennifer Lutz
Author: Jennifer Lutz
Author Credentials: A.S. Nursing Degree, Current B.S. Nursing Student with a focus on nursing informatics.
References: Information contained within this website is directly referenced from textbooks, specifically (Human Anatomy & Physiology ninth edition by Elaine N. Marieb and Katja Hoehn, M.D., Ph.D., published by Pearson), scientific journals and notes taken throughout our college careers.
Jennifer Lutz's Latest Posts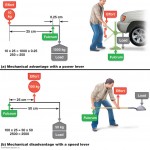 How do our bones and muscles work? What makes movement possible? These are just a few questions you may find yourself thinking about now and again, and although these questions cant be answered in a single article, we can tackle the idea of leverage and bone-muscle relationships. In this article we'll discuss mechanical advantage, mechanical disadvantage, the idea of a lever, fulcrum, effort, and load, classes of levers, and lever systems within the human body.